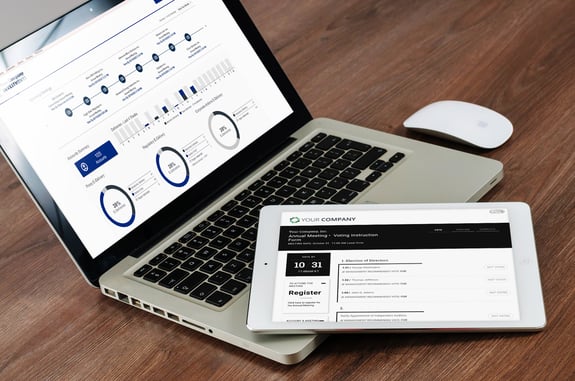 bank SOLUTIONS
Mediant helps custodian banks advance the digital transformation of proxy and other post-trade investor communications.
Technology plays a critical role in a custodian bank's ability to evolve with the market and continually add value to clients. Mediant provides an integrated suite of post-trade communications solutions, delivered through a single platform. It streamlines processes, increases productivity, safeguards regulatory compliance, and enhances the end-client experience.
UNPARALLELED CLIENT EXPERIENCE
Custodian banks are falling behind on both investment manager and client expectations.

Mediant provides a comprehensive and integrated suite of post-trade communications solutions, backed by 24/7 support.
Everything is in one place, with intuitive and customizable interfaces ensuring maximum clarity and ease-of-use.
BETTER ECONOMICS
Fragmented, legacy technology requires costly and time-consuming management.

Mediant's robust digital technology is cost-effective to operate. It is continually updated

with new features and functions at no additional cost.

It frees staff to focus on strategic activities rather than administrative tasks, helping to increase efficiency and boost revenues.
INCREASED OPERATIONAL EFFICIENCY
Disjointed systems and manual processes reduce productivity and the time available to spend with clients.

Mediant increases performance and reduces workloads by automating multiple business processes within a single platform.
Highly adaptable, it handles proxy processing, global and domestic corporate actions, and rapidly adapts to changes in regulations.
ASSURED COMPLIANCE
A lack of trackability and transparency across post-trade communications is a risk to regulatory compliance.

Mediant gives custody operations

and compliance managers unparalleled oversight of proxy and other post-trade communications.

A single dashboard of real-time data makes it easy to monitor and report on all regulatory requirements
MIC CUSTODY MANAGER
The most comprehensive platform for custody operations and compliance managers to oversee proxy and other post-trade communications, and fulfill regulatory compliance.
FEATURES
A single dashboard for proxy, reorg, class actions and related workflows, plus meetings in all regions: APAC, EMEA, LATAM, NAM
Track proxy delivery and voting by issuer, client and investment manager
View all documents and delivery dates, plus proof of delivery for both digital and print fulfillment
MIC WEALTH MANAGER
A comprehensive solution that makes it easier and faster for advisors to do their job, giving them more time to serve clients for a better customer experience.
1
An intuitive dashboard that organizes critical information and time-sensitive activities in one place
2
Saves time by eliminating manual processes, repetitive tasks, and multiple application logins
3
Increases advisor productivity with efficient tools for proxy voting, reviewing shareholder communications, and making reorg elections online
4
Enables advisors to better serve their clients, promoting your brand and strengthening relationships
MIC WEALTH MANAGER INCORPORATES:
MIC PROXY
Easy and reliable proxy voting and reporting, supported by automated account management.
Saves time for investment managers

with voting authority by voting multiple accounts via single ballot

Seamless support for investment managers

that use vote agents, including ISS, Glass Lewis and Egan-Jones

Real-time data and automated reports keep managers ahead of the curve and ensure regulatory compliance
MIC ReOrg
Increase operational efficiency and advisor satisfaction by automating the capture of voluntary corporate action elections.
Saves time by automating the distribution of offers, capture of elections, and entry of elections into securities processing systems
Enhances productivity through centralized management of current offers, retrieval of past offers, and making elections online
Reduces financial risk by eliminating human error from the election capture process
INVESTOR COMMUNICATIONS
A comprehensive suite of services for efficient and compliant investor communications programs, custom branded and designed to increase shareholder engagement.
FEATURES
Tracked distribution of annual reports, proxy materials and ballots to beneficial owners, with real-time status updates in MIC solutions
Online hosting of all types of pre-sale prospectuses. Real-time delivery status in MIC solutions, plus automated post-sale trade suppression
Cost-efficient T+1 electronic and postal delivery of mandated post-sale documents, with real-time updates in MIC Custody Manager for easy status tracking
Combined Confirm and Summary Prospectus service, with T+1 delivery, for significant cost savings and increased shareholder satisfaction
Distribution of regulated and interim reports, including annual and semi-annual reports, prospectuses, and statements of additional information
Distribution of mandated and voluntary notifications, including corporate actions, class actions, and bankruptcy
SHAREHOLDER DISCLOSURE SUPPORT for SRD II
Pay-per-request support for rapid handling of requests for shareholder details, in full compliance with the second Shareholder Rights Directive (SRDII).
FEATURES
Mediant handles incoming shareholder disclosure requests, notifying you within 24 hours and providing a clear template for your response
Complete the template within 24 hours, notifying Mediant when ready
Mediant securely communicates the information to the issuer/issuer agent/CSD
CLIENT
COMMUNICATIONS

Comprehensive services and support across client communications: the creation, generation, delivery and management across all channels and business lines.
FEATURES
Statements and Confirms, rapidly produced with custom branding, and cost-effective delivery at any volume or distribution interval
No-hassle distribution of regulated yet often ad hoc communications, including statements, confirmations, tax forms, Form ADV, Form CRS, client letters, and more
Turn-Key E-Delivery and Archiving, secure and fully compliant, and inclusive of support for e-consent management
MIC PLATFORM
Advanced investor communications technology: empowers banks to act on, track and manage all potential touchpoints across the investor communications lifecycle.
INTEGRATED
A single, integrated platform for all post-trade communications
TRANSPARENT
Real-time data transparency for easy oversight and compliance confidence
CLOUD-BASED
Turnkey, cloud-based technology hosted on Amazon Web Services (AWS)
SECURE
Industry-leading cybersecurity: stress-tested, high redundancy, fully compliant
CUSTOMIZED
Intuitive, customizable interfaces with time-saving single sign-on (SSO)
CURRENT
No-cost updates, adding new features and maintaining compliance